After the long absence this detective finally return as he would make my fourth case of Sleuth. I press take the case, then I'm going to search the crime scene.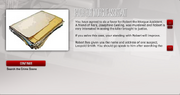 You have agreed to do a favor for Robert the
Morgue Assistant
a friend of his's Josephine Gesling, was murdered and Robert is very interested in seing the killer brought to justice. If you solve this case, your standing with Robert will be improve.
Robert has given you the name and address of one suspect Leopold Smith. You should go speak to him after searching the crime scene.
Case FileEdit
tba
Crime SceneEdit
(more information)
LocationsEdit
Leopold SmithEdit
Robert Dark give me his identity and address about his whereabouts.
Date & Time
Edit
Time
Location
People
Testimony
Saturday 7:00 PM
Josephine Gesling
Searching Crime Scene
Saturday 8:00 PM
Doylesburgh
Leopold Smith

Alibi

Ernest Birdsell and I have business to discuss. Ask me if you don't believe me.
Leopold's alibi was fake.

Saturday 9:00 PM
Doylesburgh
Gustav the Bartender

Ask about suspect

Whereabouts of Ernest Birdsell

Ernest lives in Doylesburgh. Why? Do you think he has something to do with the murder?

Sunday 12:00 AM
Josephine Gesling
Researching Crime Scene
Sunday 1:00 AM
Doylesburgh
Ernest Birdsell

Alibi

Horace Birdsell and I have business to discuss. Ask me if you don't believe me.

Leads

If I were you I'd talk to Leopold Smith. He is Josephine's Lover. They've been spending a lot of time together lately.

Sunday 2:00 AM
Doylesburgh
Gustav the Bartender

Ask about suspect

Whereabouts of Horace Birdsell

Horace Birdsell lives by himself in North Christie.

Sunday 3:00 AM
North Christie
Horace Birdsell
(locked)
Sunday 4:00 AM
Doylesburgh
Gustav the Bartender

Ask about suspects

Clammed (use intimidation, answers two questions)
Judge of Character: Intimidation
Habits of Horace Birdsell and Leopold Smith.
Horace Birdsell habit is not home late at night.
Leopold Smith habit is working on 9 AM and going home on 6 PM.

Sunday 5:00 AM
Doylesburgh
Tabitha Dorsey

Ask about suspects

Looking and buying for Horace Birdsell's key for 42 dollars.

Sunday 6:00 AM
North Christie
Horace Birdsell

Alibi

I was visiting with Ernest Birdsell. We had a lovely time together.

Sunday 7:00 AM
Hammett Square
Research Case
Information about Leopold Smith is only about the subscription card with Doylesburgh address.
Sunday 8:00 AM
Doylesburgh
Tabitha Dorsey

Ask about suspects

Looking and buying for Leopold Smith's key for 42 dollars.

Sunday 9:00 AM
Doylesburgh
Leopold Smith

Use Key

Taken from this location

Blunt weapon
Handwriting Sample

Sunday 10:00 AM
Hammett Square
Horace Birdsell

Leads

I have no idea who's she been spending her time with lately. I guess I didn't know her as well as I thought I did.

Motive

Leopold utterly despised Josephine. I don't know why but I believe he hated her enough to kill her.

Sunday 11:00 AM
Hammett Square
Wanstroths Department Store
Window Shop for 4 hours.
Sunday 3:00 PM
Doylesburgh
Tabitha Dorsey

Ask about suspects

Looking and buying for Ernest Birdsell's key for 42 dollars.

Sunday 4:00 PM
Doylesburgh
Ernest Birdsell

Use Key

Taken from this location

Sunday 5:00 PM
Doylesburgh
Ernest Birdsell
(none)
Sunday 6:00 PM
Doylesburgh
Leopold Smith

Leads

Have you talked to Horace yet? Horace Birdsell. He is Josephine's cousin.

Sunday 7:00 PM
Doylesburgh
Ron's Coins and Pawn
Trade a Collection (nothing)
Sunday 8:00 PM
North Christie
Carlita Ahnberg

Ask about Handwriting

Leopold Smith's handwriting doesn't match.

Sunday 9:00 PM
Doylesburgh
Flop House x2
Rent room to inspect evidence but I don't have anyone and using it for sleep.
Monday 6:00 AM
Doylesburgh
Ernest Birdsell
(none)
Monday 7:00 AM
Doylesburgh
Flop House
Rent room to sleep for 8 hours.
Monday 3:00 PM
Doylesburgh
Ernest Birdsell

Searching Bedroom

Taken from this location